Location: Product Detail
Automatic aerosol dispenser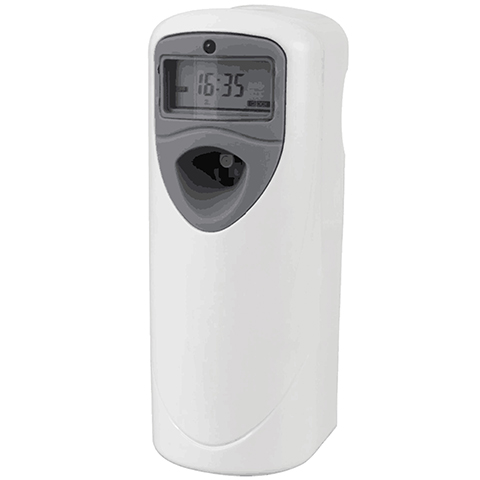 General Functions for LCD Aerosol Dispenser for CY764:
Open the front cover, you will see 7 pieces pink buttons: (From left to right)
1. RESET
Clear away precious function setting and programs, then reset new desired programs.
2. SPRAY
Push this button, the unit will spray 1 time after green and red lights flashing three times each.
3. MODE
The following mode will appear on the LCD display when push this button for 2 seconds.
ON, OFF, START, STOP, SPRAY, INTERVAL, WEEK, CLOCK.
4. WEEK Set week by pushing it
5. HOUR Set hour by pushing it
6. MIN Set minute by pushing it
7. ON/OFF Set the unit power on or off.
Please note: Push "ON/OFF", the LCD will display "ON", the LED will flash green and red color 3 times each, then spray 1 time and enter into normal working condition; Push this button again, the LCD will display "OFF", the unit is power off, but LCD also display time.
LED Indicator
When the unit working normally, the LED will flash green color. The LCD displays time normally, when it displays a battery pattern on the bottom left corner, it means the batteries low capacity, then need to replace new batteries. (2 D batteries can last more than 10 months)
SPECIFICATION for CY764
Construction: ABS
Dimension: 24.5 X 8 X 9.5CM
Carton size: 58.5X56X55cm
QTY/20GP:12000PCS
50pcs/carton(26KG)
Unit weight: 480 g
Controlled by digital micro-controller
Spray interval: 1-60 minutes free selected
Batteries: 2 x D size batteries (3V) Two "D"(1.5V) batteries can last over 10 months.