Location: Product Detail
Automatic aerosol dispenser with remote CY754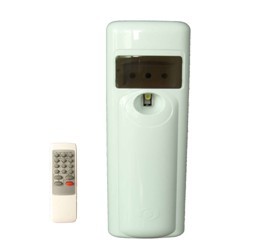 LATEST AEROSOL DISPENSER WITH REMOTE
ITEM NO.CY754
SPECIFICATION
Construction: ABS
Controlled by digital micro-controller
Spray interval: 5 minute to 4 hour minutes free selected
Batteries: 2 x D size batteries (3V)
Size: 515*470*475mm
50pcs/carton(29KG)

FUNCTIONS:
1. 5 minute to 4 hour min setting(any min setting are available)
2. Power switch display-by LED light,
3. Three-phases induction (24H/DAY/NIGHT) inside
4. 3000 spray display red light (change aerosol can)
5. Two "D"(1.5V) batteries can last over 12 months.
6. It can fit all 300ml and 320ml Spray Fragrance Cans.
7. ABS material.
8. Different colors are available
9. LOCK outside
10. Sray 1 time/2 time/3 time can be set.